Tackling Alzheimer's from all sides
A roundup of ASU research for Alzheimer's and Brain Awareness Month
---
June 17, 2020
Alzheimer's is a disease marked by many grim statistics. According to the Alzheimer's Association, this form of dementia is the sixth-leading cause of death in the U.S. and afflicts over 5 million Americans as of 2020. This year, Alzheimer's disease and other dementias will cost our nation $305 billion, and 16 million Americans will provide 18.6 billion hours of unpaid care.
But not all the news is grim. Researchers have amassed an impressive body of research aimed at understanding, preventing and treating the disease, as well as helping caregivers. At Arizona State University, researchers are applying an interdisciplinary approach to tackling this complex disease from many angles.
Download Full Image
For Alzheimer's and Brain Awareness Month this June, we've collected a sampling of stories about how ASU researchers are working to help prevent, delay and treat Alzheimer's, as well as improve quality of life for patients and their caregivers.
Researchers from the Biodesign Institute reveal that supplementing your diet with the nutrient choline over the course of your life might protect your brain from Alzheimer's disease. Choline, which is already naturally present in some foods, blocks the production of amyloid-beta plaques, a hallmark of Alzheimer's. It also reduces the activation of microglia — which, when overactivated, cause brain inflammation that can kill neurons.
Millions of Americans provide unpaid care for people living with Alzheimer's disease, many of them family members who have no medical background. This often results in stress and feelings of frustration or being overwhelmed among caregivers. David Coon, director of ASU's Center for Innovation in Healthy and Resilient Aging, answers questions about the center's research on caregivers. Interventions they developed, he says, have helped reduce caregivers' stress and depression, improve their self-efficacy, and promote supportive community.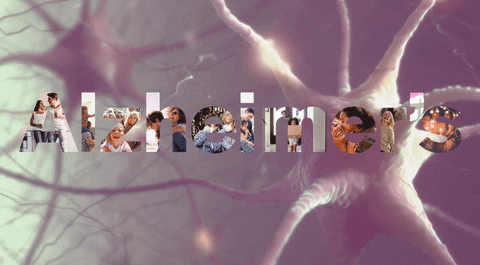 Illustration by Shireen Dooling
In this Thought Huddle podcast episode, the host invites guests to discuss a variety of topics related to Alzheimer's disease. How is Alzheimer's different from other dementias? How does it affect American society? What are some of its possible causes and risk factors? Besides questions, the guests also offer rays of hope. ASU researcher Diego Mastroeni studies possible methods for Alzheimer's prevention, including protecting mitochondrial function in brain cells and creating new synapses by learning new things. Gary Glazner, executive director of the Alzheimer's Poetry Project, uses poetry and song to help people with Alzheimer's unlock areas of memory, interact and find positivity.
A team of scientists led by Gro Amdam of the ASU School of Life Sciences found that when older bees switch tasks to fill the roles of younger bees, it effectively reverses the aging of their brains. The researchers discovered that two proteins change in the bees' brains — proteins which, in humans, are known to protect against dementia. The finding may open the door for social interventions as a way to slow or treat age-related dementia.
Certain species of herpesviruses may contribute to the development of Alzheimer's disease, suggest scientists from the ASU-Banner Neurodegenerative Disease Research Center and colleagues. Their study, which used large data sets from brain donors and sophisticated analysis tools, found higher levels of human herpesvirus 6A and 7 in brains affected by Alzheimer's than in brains without the disease. It points to the possibility that the damage leading to Alzheimer's may be a result of the brain's response to a viral attack. If true, it could help researchers look for antiviral or immune therapies that can fight Alzheimer's before symptoms appear.
Aural Analytics, a company founded by ASU faculty from the College of Health Solutions and the School of Electrical, Computer and Energy Engineering, uses technology to detect changes in speech — changes that can serve as indicators of brain health. The Aural Analytics app is easy to use, and participants can do the assessments at home. The researchers' goal is to track the progression of neurological diseases and eventually provide early disease detection.